Film to a Record & Film to a Theme Competitions
15 November 2021
Tonight we held both our Film to a Record and Film to a Theme Competitions. The theme was Twist, as chosen by our previous President Marie McCahery. There were a lot of entries, in fact more than we were expecting, which led to the night over running a little. Never-the-less, it turned out to be a great night, with a real variety of films each showing their creators own unique styles. Our judge was Jax Griffin, who teaches film making at Bradford University and also runs Bradford's Drunken Film Festival, the film festival that screens it's films in Pubs. We would like to thank Jax for being our judge, plus taking the time to give us her feedback and insight.
The Film to a Record winner was Zero by Phil Wainman and the Film to a Theme winner was Oklahoma by Harry Nicholls.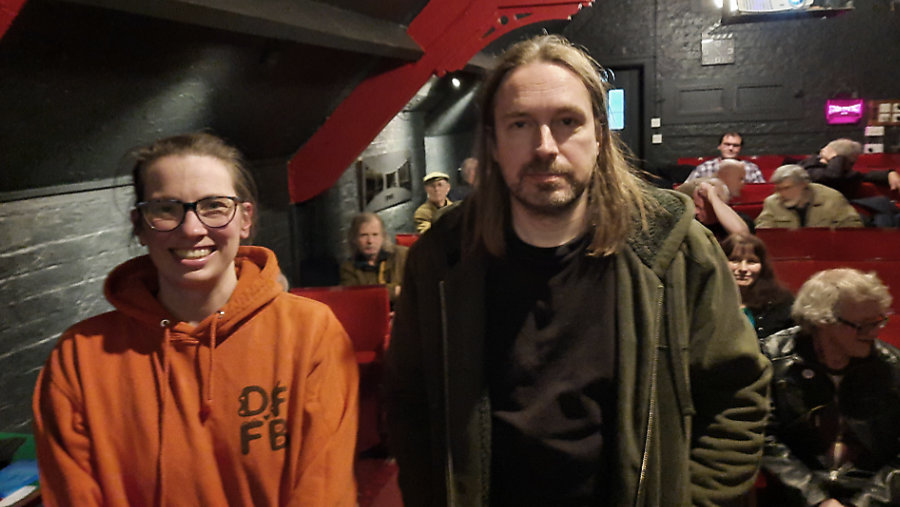 ---
Ten Minute Film Competition
11 October 2021

Tonight was our annual ten minute film competition. Entries made up an interesting and enjoyable show reel, which was liked by the judges and audience alike. The winners were Ian Eggleston and Phil Wainman with their film Standing Tall. Many thanks to our visiting judges Andrea and Steve Holt.
---
Front Entrance and Green Room
17 September 2021

So, after more than a year of renovations to the club, involving a tremendous amount of hard work from many of our members, the work is nearly complete. The most recent work has involved the renovation of a disused downstairs room in to a green screen studio and meeting room. This room previously was full to the ceiling with old kitchen units and other assorted junk, had two large wooden barn doors which were nailed shut and had no working electricity. The room has since been cleared, cleaned, had the barn doors replaced by a wall, with insulated plasterboard inside, plus an outside door and step. New doors have also been added to the inside of the room and one wall has been painted chromakey green. We've also had a qualified electrician rewire the room, adding new lights and plugs. It's safe to say that this once wasted space has now become a fully functing green screen studio and meeting room.

As well as the work inside, the courtyard outside has also been extensively renovated, with fly tipped rubbish removed, graffiti painted over, repairs and decorations done as well as a new wall and locked gate added for security.

New Green Screen and Meeting Room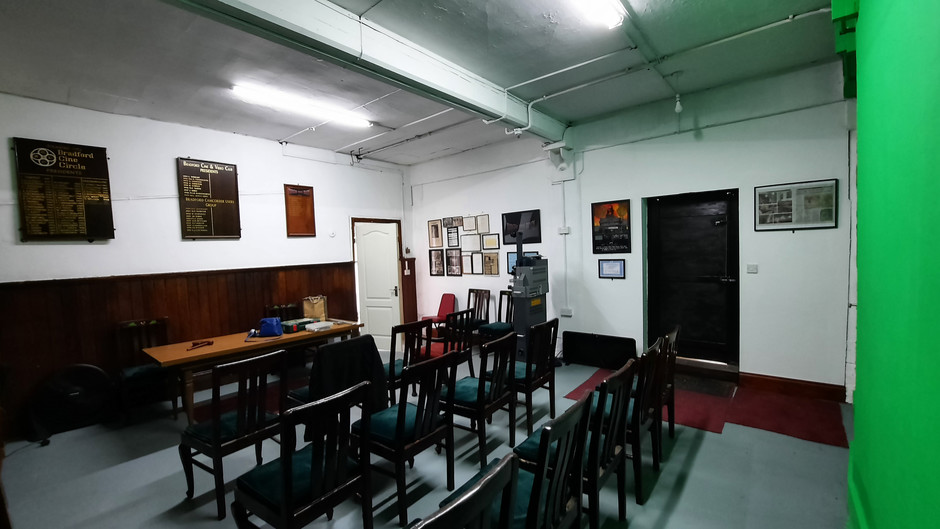 Newly Renovated Front Entrance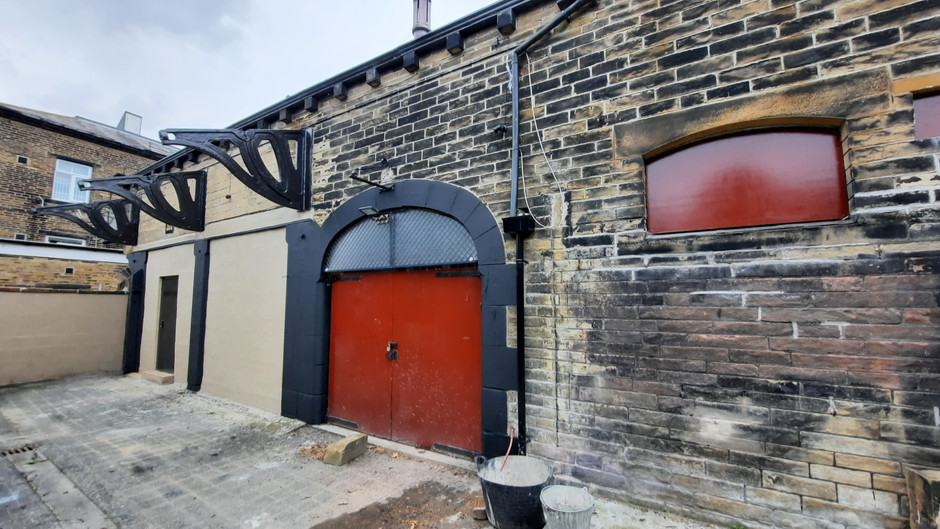 Front Entrance (viewed from other side)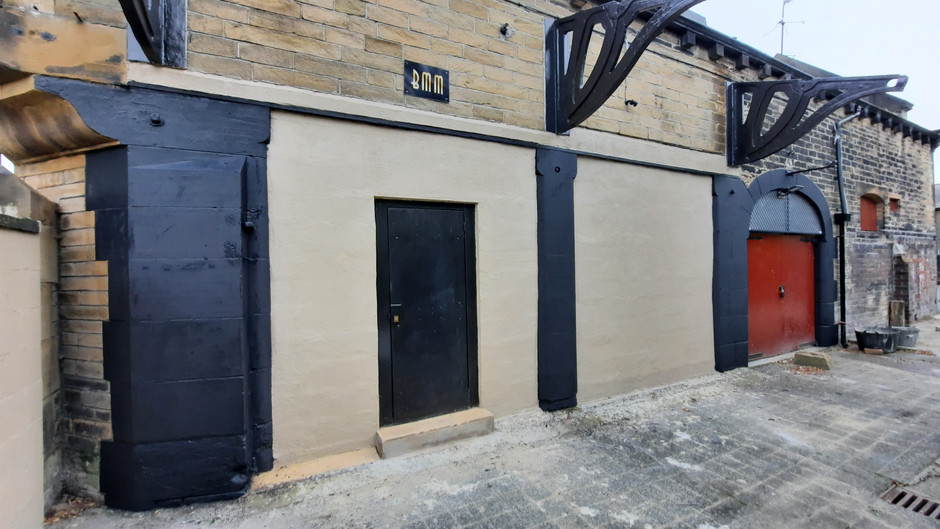 Photos by Ian J. Simpson.
---
One & Five Minute Film Competitions
6 September 2021

So tonight we had our one minute and five minute film competitions. After more than a year of lockdown, it felt good to once again have our competitions up and running. The entries were interesting and varied and made for a good evening of viewing.

The winner of the one minute competition was Judith Simpson with her film 'Beginners Guide To Tits' (it's about Birds).

The winners of the five minute competition were Ian and Judith Simpson with their film 'Blue Skies Over Faringdon'.

This was the first year we've officially had a one minute competition, which was agreed on in our last AGM.
---
Telegraph and Argus Article
Wednesday 28 July 2021

Telegraph and Argus writer Helen Mead interviews members of the Bradford Movie Makers about the history and current running of the club. Many thanks to Helen for doing this and to our President Marie McCahery for setting this in motion.

To view the article on the T & A website, click Here,

or click the article below to view High Resolution Version.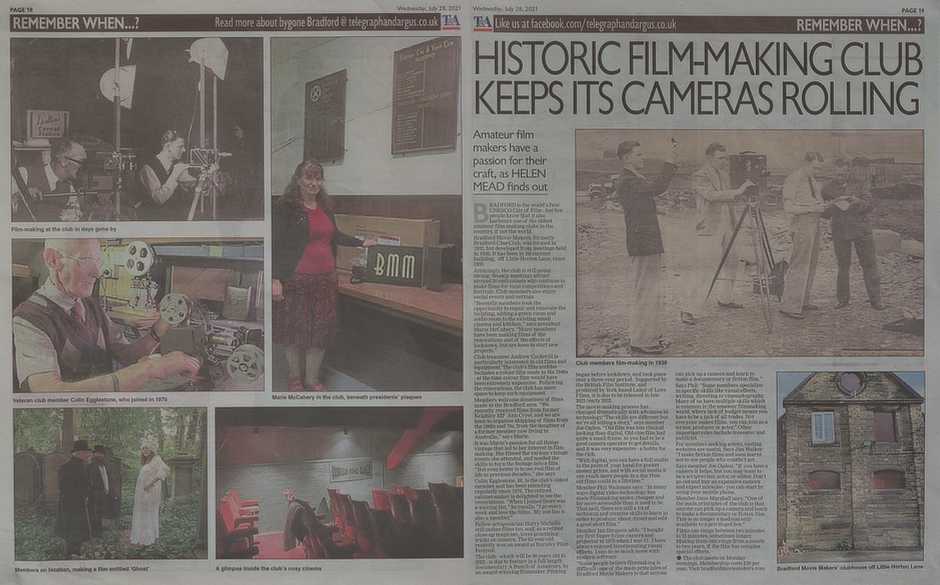 ---
Welcome Back
17 May 2021

So finally, after more than a year of the Movie Makers being closed due to the Covid-19 Pandemic, we are once again open for business. From Monday 17 May, 7:30pm, we will be holding weekly meetings (in accordance with current Government guidelines) at our usual venue. There will be no meeting on 31 May, due to the bank holiday. We would kindly like to ask members to please bring face masks and respect the personal space of others. Thank you. Now, with that said, let's make 2021 the year Bradford Movie Makers put low budget film making back on the map.
---
The Covid 19 Pandemic
2020 / 2021

As many you will appreciate, last years breakout of the Covid 19 pandemic has meant that the normal running of the club has not been possible. Many members were required to isolate due to their age and/or underlying health conditions and spells of lockdown have meant many things being put on hold. Never-the-less, I'm pleased to say that during this time, progress has still been made. Physical meetings have largely been replaced by online Zoom meetings. This has allowed for the ongoing process of decision making and the usual exchange of creative ideas. Some members have made documentaries of their time in lockdown and others have found safe ways to complete their unfinished films. For many, this time has been used to finish editing their films and improve their computer skills. Other members have used this time to do much needed renovations and repairs to the club building and have performed miracles in a relatively short length of time. Again socially distanced and done in the safest way possible. In short, I'm proud to say that despite the ongoing challenges we're all facing at the moment, this time has not been wasted. So, here's looking forward to the world returning to normal and the members meeting in person again.

More detailed news updates and articles coming soon :-)
---
Positive feedback
10 February 2021

Our very own Dave Marshall, Producer of the film Bradford in the Frame, has been in email correspondence with David Wilson, director of Bradford UNESCO City of Film. Bradford in the Frame was commissioned by Bradford Council and David Wilson has given us positive feedback saying, "it was a brilliant insight into the history of the Bradford Movie Makers and of Bradford". There have been some discussions about screening the film, including the possibility of it being shown on Centenary Square's big screen, but due to the Pandemic these discussions are only preliminary.
---
Bradford in the Frame
January to Febuary 2021.
Documentary commissioned by Bradford Council. Produced by Dave Marshall. Created and Edited by Judith Simpson, with technical assistance by Ian Simpson. Contains vintage footage from Bradford Cine Circle and new footage submitted by current members of the Bradford Movie Makers.
Watch Bradford in the Frame below.
---
Major Renovations and Repairs
Throughout 2020 outside of lockdown periods.
After years of slow progress and debate about renovations and repairs to the club, this has been the year that most of the work has finally been completed. Approached with covid safety in mind, with members working in different parts of the building, a remarkable amount has been achieved. This work included -
Removing huge amounts of fly tipped rubbish that had been dumped on the remains of the clubs old garage, which had burnt down some years earlier. This meant that the remains of the old garage, including burnt roof beams and tiles were also buried beneath the rubbish. In total this filled six skips with some materials like bricks and tiles being recycled and reused.
Cutting back and removing large amounts of thorny foliage, weeds and plants that had grown over the neighbours wall and taken over the courtyard and garage area.
Securing the entrance to the building with a brick wall at the front and locked metal gate and fence at the back. This area had long been plagued with graffiti, litter, broken bottles and various other forms of anti-social behaviour. Now this area is no longer accessible to the public.
Removing a large boarded up double barn door (the building was a Police Stables in the early 1930s) and building a brick wall with new security door entrance.
Emptying a large downstairs room, which was previously overly full of old kitchen units, wooden cabinets, broken chairs and other assorted junk. This room is now being converted in to a green screen studio. This work has included adding panelling to some walls, having an electrician fit new wiring, plugs and lights (the old lights no longer worked) as well as adding shelves to one wall.
General repairs to plumbing.
Repairs to stairs leading up to kitchen.
Replacing the old broken and rotting kitchen window, with a modern PVC double glazed one. This will help keep us warm in winter and is easier to open in summer.
Removing the old and now unused projection booth to extend the size of the kitchen.
Adding new kitchen work surfaces to the back wall of the kitchen.
Removing old worn out and in some places mouldy kitchen carpet.
Removed old carpet from Auditorium and replaced with new carpet which extends all the way to far wall and downstairs to the toilet area.
Added new dimmable side lights to auditorium and moved all dimmer switches to the digital projectionists corner.
Completely redecorated the Auditorium replacing large areas of white with a matt grey most commonly used in modern cinemas. This colour scheme prevents reflected light from hitting the screen.
Redecorated kitchen, downstairs toilet and other areas of the building.
Work to be continued at a future date.
---
Annual Awards
(Outdoors with Social Distancing)
Monday 31 August 2020

So once again it's that time year, when members of the Movie Makers find out who has won what in the Annual Competition. This year due to the Covid Pandemic, the awards were postponed from April to the end of August. To allow for social distancing it was decided to hold the event outdoors in our courtyard. Note that this was before restrictions on outdoor meeting were tightened. This years Annual Competition was judged by Ken Wilson.

The winners of this years award were:-

Annual Competition - Fiction <! Nested Table below >
| | | |
| --- | --- | --- |
| Category | Winner | Film |
| Best Script | Judith Simpson | Return From Walthamstow |
| Best Visual Effects | Judith Simpson | Return From Walthamstow |
| Runner Up (Best Fiction Film) | Judith Simpson | Return From Walthamstow |
| Best Sound | Andrew Cockerill | Return From Walthamstow |
| Best Male Actor | Harry Nicholls | Return From Walthamstow |
| Best Female Actor | Judith Simpson | Return From Walthamstow |
| Novice Award (Best Newcomer) | Edmund Davies | In' Da Club - Urban Beats |
Annual Competition - Non-Fiction <! Another Nested Table >
| | | |
| --- | --- | --- |
| Category | Winner | Film |
| Best Cinematography | Ian Egglestone & Phil Wainman | Standing Tall |
| Best Editing | Ian Egglestone & Phil Wainman | Standing Tall |
| Film of the Year | Ian Egglestone & Phil Wainman | Standing Tall |
Standard Competitions <! Yet Another Nested Table >
Competition
Date
Film
Winner
Judge(s)
Edit in Camera
30-7-2019
Knaresborough
Harry Nicholls
Judith Simpson
Ian Egglestone
One Minute Film
23-9-2019
The Feast (Joint Winner, 6 Votes)
Talmeez Ahmed
Audience Vote
One Minute Film
23-9-2019
Ear Worm (Joint Winner, 6 Votes)
Joe Ogden
Audience Vote
Five Minute Film
23-9-2019
Bradford City of Lights
Ian Egglestone
Judith Simpson
Marie McCahery
Ten Minute Film
25-11-2019
Return From Walthamstow
Judith Simpson
Dave Morton
Film to a Record
9-12-2019
Brothers in Arms
Judith Simpson
Bob Rowley
Film to a Theme: "Heaven and Hell"
9-12-2019
Return From Walthamstow
Judith Simpson
Bob Rowley
Holiday Film
9-3-2020
London 2019
Ian & Judith Simpson
Edmund Davies
Marie McCahery
Golden Turkey
6-4-2020
In' Da Club - Urban Beats
Edmund Davies
Audience Vote

For more details including non winning entries, download our Word Document Version of results.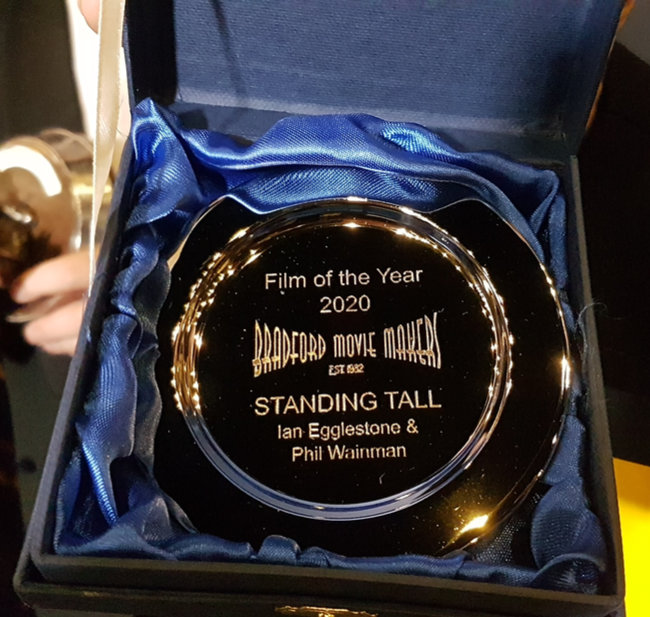 ---
Yorkshire Movie Makers - Ten Minute Competition
6 March 2020
Bradford wins both the fiction and non-fiction categories in the 2020 Yorkshire Movie Makers ten minute competition. The Winners were Return From Walthamstow by Judith Simpson for the fiction and Catch and Cook by Ian Egglestone for the non-fiction.
---